It all started with a travel to India... Then my biggest journey and adventure of my life began. Yoga shooked me to the core and changed my whole idea of life. I want to share that experience with others and guide them to their true inner selfs...
The reason why I started to do yoga was because I couldn't sleep. And the reason I couldn't sleep was because I had anxiety. And the reason for anxiety came from fear. Fear for what it should become of me, fear for not fitting in, for not being good enough etc, etc... My self-confidence was high but my self- love was zero. I was tourtued and a slave of my mind and thoughts that I couldn't control. Negative thoughts spinning in my head 24/7 and I were thinking what is the meaning of this live? Why is it so hard for me and not for others?!

I went outrageous and extreme just to feel alive … I knew somewhere deep inside some day it would be better, some day I would find my way. I wasen't gonna sit around and wait for the magic to happen, I went travelling. And I have lived since I was a teenager in a backpack exploring this world. And exploring myself.

But it wasn't until I arrived to India something in me truly changed. The people, clothes, colures, flavors, tradition, the himalayas, yoga and a serious stomach disease left me transformed but also confused. When I arrived back home again I started study yoga and Indian philosophy intensively and the more I study the more certain I become that this was my purpose, my dharma, this teachings was the truth. I got so inspired and couldn't get enough! I went to yoga retreats in Sweden, Thailand and Bali.

I desided I wanted to teach others, and hopefully inspire and help someone who was as desperated as I once was. I took a 200 Hour hatha Yoga TTC and a 300 Hour Ahstanga/Vinyasa TTC both courses in India.

I am not enlightened, I am not a super yogini that goes up at 5 and take practice everyday, I eat meat sometimes, I take a glass of wine. I am not perfect and I don't want to be either. I want to keep a good balance in life. To be balanced you don't have to only feed yourself green smooties and do yoga 2 hours per day. You should also focus on your sourondings, share joy with the people you love, do things that makes you happy. That is my view on it, enjoy life, and yoga is a important part to maintain balance.
Today I am a very happy person, I have rebounded a good relationship with my family and friends, I have a wonderful man by my side. I am working on building my own yoga retreat in a beautiful nature place in Småland, Sweden. I teach on a yoga retreat in Ibiza and I organize yoga travels to my boyfriends home town in Almeria, Spain. Of course life will always give us hard lessons to learn, but I have made up my mind on being a happy person (so much easier when you have decided :) )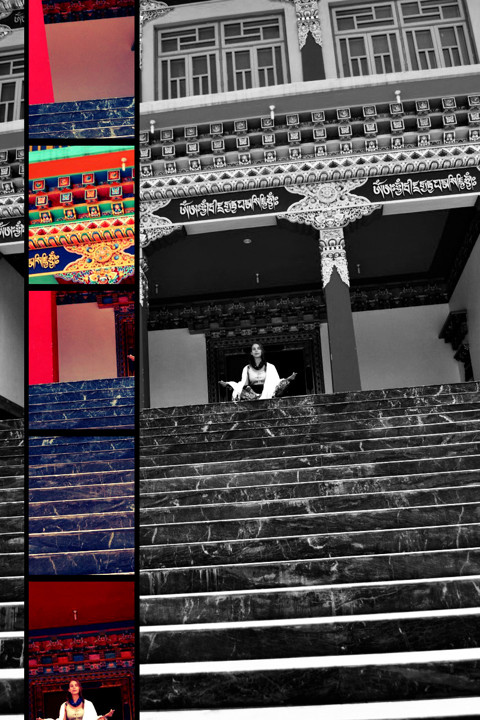 Ebba gives everything in each lesson, all her energy, all her passion for life and self knowledge all that she has being learning from the world after years of travelling and discovering herself. She arrives to your soul teaching you how to breathe and how to take the best of each pose to improve the physical and mental health. The poses are natural and connected between them, nothing is forced. And maybe the most important thing is not what she knows, but how she teach it, she has a very strong teaching vocation and you can really apreciate it in her lessons. Thank you Ebba for our yoga sessions and for helping people on their way to discover themselves. /Carlos Quiles
Jag har under några måndagskvällar varit med på Ebbas yogapass.
Ebba är en pigg och lite galen tjej i vanliga fall, men som yogainstruktör sprider hon ett behagligt lugn. Hon förklarar de olika poserna på ett bra och pedagogiskt sätt så även en nybörjare kan hänga med.
Det som utmärker Ebba (tycker jag) är hennes lugna röst, inlevelse och graciösa rörelser.
/Viveca Johansson Viveca