Just arrived back home from an epic trip to Thailand where I was guest teaching at wonderfruit festival. It was an amazing set up with beautiful art creations, a healing village and some really cool artists preforming. So excited to come back in December 2017! A real celebration of life!
I also visited The Sanctuary on Koh Pagan where I meet my boyfriend one year ago, this time we returned with the result of our love baking in the oven, a HAPPY SOUL YOGA BABY is on the way!
Planning to start TRIBE MAMA CIRCLES for pregnant and all women that feel like they want to belong to an empowering community in Victoria Park (LONDON) when the weather is getting warmer. More info coming soon...
Still doing my retreats this spring with help from wonderful colleges and friends. I feel very good and is still doing my yoga practice every day and hope to keep feeling this good and energised. Pregnancy Yoga Videos is in the making and coming up soon on my YouTube Channel.
To become a mother have awaken a lot of different feelings in me and it's been quite a transition from being a gypsy yoga teacher to now settling down a bit! I welcome this changes with all my heart and look forward to create a home and family. I will do it my way and will still do a lot of travelling and yoga-retreats but in a little bit different form and with more help.
Life truly is a journey and I feel now as a living example of that you can really change your life over a very short period of time. It's very exciting to be alive! My new favourite expression is; ROOTED BUT FLOWING which is how I wish to direct my life from now on...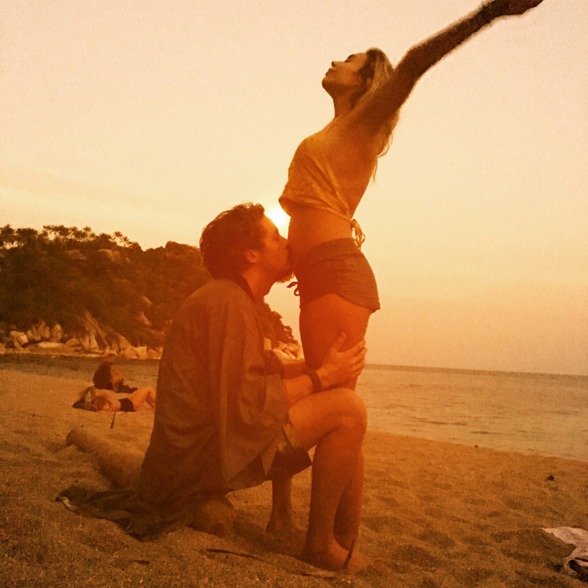 Läs hela inlägget »
One of my cravings during this pregnancy have been smoothies! I experience often nausea and difficulties to eat when I get too hungry and the smoothies keeps my blood sugar levelled and I then don't feel a need for sugar and other unhealthy foods. This is something I be applies to everyone so why not exchanging low energy levels (So you can go to yoga after work for example!) and sugar rushes with smoothies? Super simple, super yummy and great replacement to sugary stuff. All you need is a mixer! Here is some of my favourite recipes!
Läs hela inlägget »
www.happysoulyoga.blogg.se