Culinary yoga retreat to Almeria
A yoga travel for the true life enjoyer, for you who like to rejuvenate and care for body, mind and soul but in the same time like to enjoy travel and cultural experiences. We aim making you completely relaxed and happy with 2 times yoga/meditation per day and 2 Spa experiences with Ayurvedic massage that will be provided during the week. Besides that we will stimulate our other senses aswell, Arabic baths, Flamenco concert and tapas are also a part of the week.

We stay at an 4 star Spa hotel in the National Park of Cabo de Gata with spectacular surroundings just 1,5 km from the beautiful beach Playazo. A week filled with experiences, inspiration and love for life.
Europe's hidden paradise ... That was how the New York Times described Almeria located on the sunny Spanish coast. 3 hours from Malaga or Alicante, tourism has not yet quite found its place here and the town has retained its Spanish charm. Almeria is famous for its delicious tapas, flamenco and Arab heritage. In the evenings here rests a magical atmosphere with the Moorish fort in the background of the old center filled with alleys full of people in the small tapas bars, where there is sometimes preformed flamenco music and dance.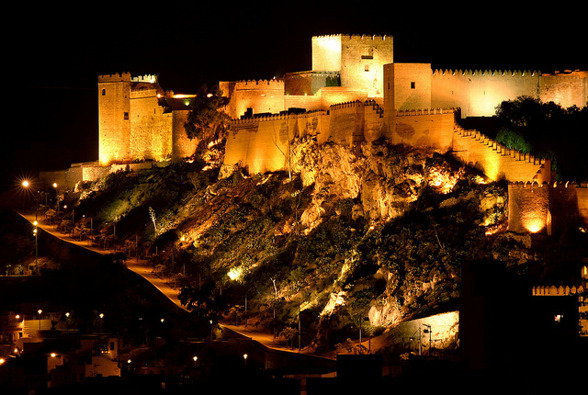 08.30 Morning Yoga

10.30 Breakfast Buffé

11.30- 18.30 Freetime to do whatever you like for example hang by the pool with a good book, take the walk down to the beautiful beach Playazo, walk along the cost or have a paella in the charming village Las Negras. Or enjoy any of the extra activities we offer, see - Optional extra activities-

18.30 Afternoon Yoga

20.00 Maybe you have your own dinner at the hotel or we agree to go out and eat together in a nice restaurant.

One day we will make a day excursion into the old centre of Almeria. Eat lunch in a beautiful Moroccan restaurant, visit the ancient Moorish fortress Alzazaba, Enjoy 2 hours Spa in the magical Arab baths, eat tapas at carefully picked tapas restaurants and finish with listening to flamenco played by gypsies. A day you will never forget!

We also have booked the Spa at the hotel private for us an afternoon. It has relaxroom with heated chairs, jacuzzi, steamroom and sauna.
Extra optional Activities
Boatexcursion or Kajak
Rent a boat with driver/kajak and snorkel for a day/hours. You can for example visit the famous hippebeach Cala San Pedro where people live in caves far from civilization.

Mountine and winetasting day
- We drive to the north were the nationalpark Sierra Nevada starts.
- Lunch by amazing location with natural swimmingpools.
- Around 40 min meditative soft trekk into a beautiful valley where we meditate and enjoy the beauty of nature.
- Winetasting at a local adwarded producer

PRICE: 45 euro/person minimum 3 people.

Diving/ Free Diving
Dive in the medterrian clear beautiful water

Horse Riding
Feel the real Wild West vibe of this place and enjoy a galopp on the beach!

Wild West Exhibition
Almeria is a famous location for many western movies if you feel for visiting Almerias Wild West Hollywood we can help to arrange this.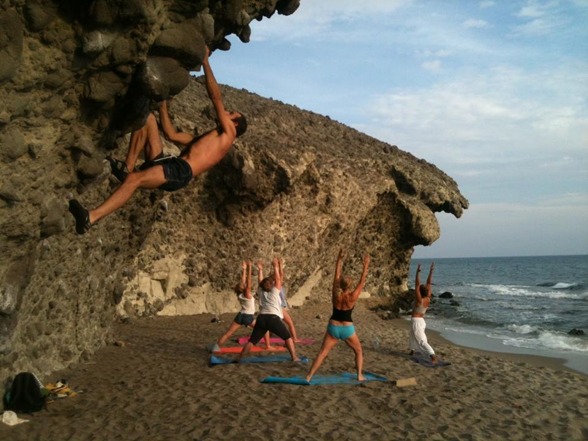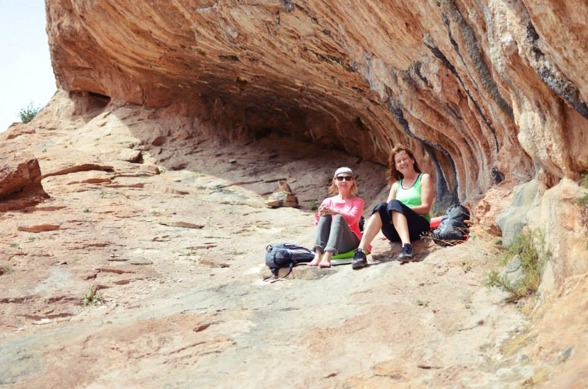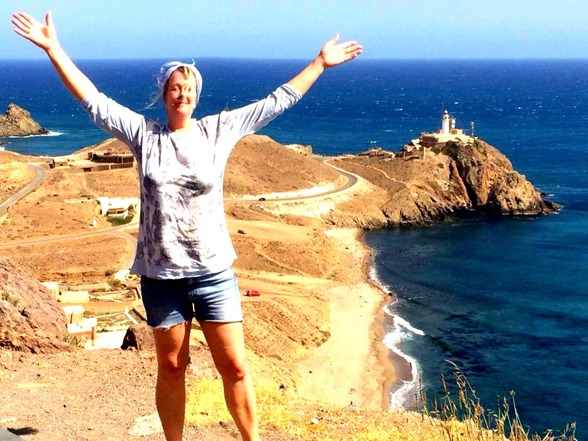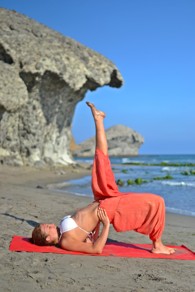 The yogasessions will last around1.5 hours and led by Ebba who is trained 500 hour TTC yoga alliance Hatha Yoga and Ahstanga/ Vinyasa Flow teacher in India. Through her ​​travels, she found inspiration for her own style; HAPPY SOUL YOGA, based on the joy of moving in flow and harmony contracted with deep positions. A yoga that will leave you filled with new prana (life force) and get you in the dearest present moment. Her yoga is suitable for both beginners and experienced.

During the week you will get well introduced to diffrent breathing teqnics (pranayama) and meditation, sunsalutations and creative Vinyasa Flow sequences. Also Kundalini yoga and Yin will sometimes be a part of the practice.

Ebbas lessons are deep, not only a exercise, full of joy, wisdome and warm humour.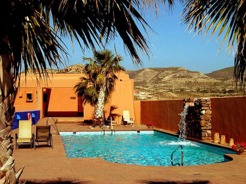 Exclusive 4-star hotel with a cozy SPA department. Located in the heart of the Cabo de Gata near Las Negras with mountain view and 5 minutes to a real paradise beach. Tasteful rustic decor and spacious rooms. The menu features good seafood delicacies and traditional Mediterranean cuisine. Vegetarian options are available.
The trip focuses much around quality of life and good food is of course a big part of this! The breakfast is a big buffé and included in the fee.

We have choosen to leave the lunch and dinner up to you, close to the hotel there is a couple of restaurants and you can also go to nearby Las Negras or Los escullos for even more options. The food is delicious mediterranean style and very affordable for its quality.

Almeria is famous for it's many Tapas restaurants and here you find a rich fooculture with food that is creative, innoative and very tasty.

Almeria is located only 10 hours from Marroco and you find much Marrocan influences in the food and culture here.
Flight, Transfer & getting around
You can fly directly to Almeria have a look HERE on what airlines and destinations are flying nearest you.

You can also fly to affordable prices with for example Ryan Air or Norwegian to Alicante or Malaga. We can arrange one common transfer please consult with us before booking your flight ticket.

There is also good connections with bus from Malaga and Alicante to Almeria check timetable at HERE

You can also rent a car, like this you also have more freedom to explore on your own during the week. If you like to sheer the cost


Date:
Inquire for intrest. Possibility to arrange for small private groups.

Includes:
- 7 nights at the 4 star Spa hotel
- Breakfast buffet
- Welcome Dinner
- Arabian Spa
- All yoga classes
- Flamenco concert
- 45 min Ayurvedic massage
- Private yoga consultation
- Goodbye dinner
- Common Transfer

Not included:
Flights, meals other than the specified.

However, we can assist in booking and coordinating your trip. Cheap to fly with Ryanair to Alicante or Malaga.

Flightplan: We offer one common transfer so please consult with us before booking your ticket. See "Flights, transfer & get around".