FReespirit ibiza yogaretreat 6-13 May 2017
This Retreat will empower you from the inside, open your heart and set your spirit free whilst discovering "The REAL Ibiza!"

Get radiant and shining and let us look after you for a week with yoga, detoxifying homecooked vegeterian cuisine, healing, massage whilst staying in a private luxary villa.

Breathe in the fragrance of the pine forest on a nature hike to the Warrior & Fertility Goddess Tanits Cave, dive into the culture of the charming old town 'Eivissa' and dance to live Flamenco after eating originally homemade Paella!

Start your day with an energizing two hour Yoga class and nourish your body with freshly made juices. Calm down mind, body and spirit with a relaxing evening Yin Yoga class or learn new things for life in one of the workshops!

This is a week to open your HEART and set your SPIRIT free!

For detailed discribtion of the week see "program".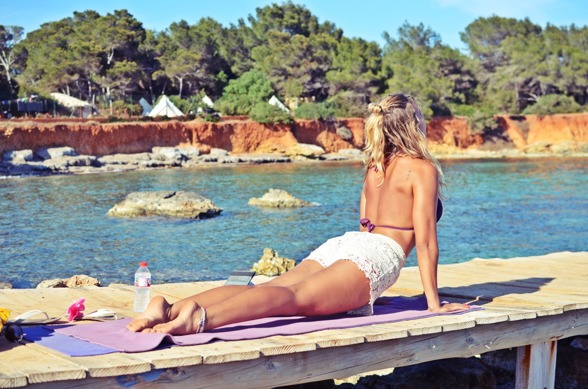 Ibiza is magical! There is just no other way to describe it... When you say Ibiza, many might know the island for its massive party scene and glamourous jetsetters, but that is just one part of the island.

Ibiza is also destination for many yogis, healers and spiritual seekers.
There is endless of myths and storys about the island and during the week we will visit some of the most spirutaly charged places. Such as Godess Tanits Cave. She is said to be the protector of the island and she a warrior, fertility, dance and creation godess! Maybe thats why so many wild and free women loves the island!
We will also visit Beirras home for many drummers and world-famous crystal mountine es vedra. One of earths most magnetic places and with a special energy.

The people that fall in love Ibiza get "called back to the island" year after year for their "Ibiza-experience". Whoever you are, everyone who comes to Ibiza has one thing in common; they love the free-spirited non-judgemental atmosphere and to enjoy life!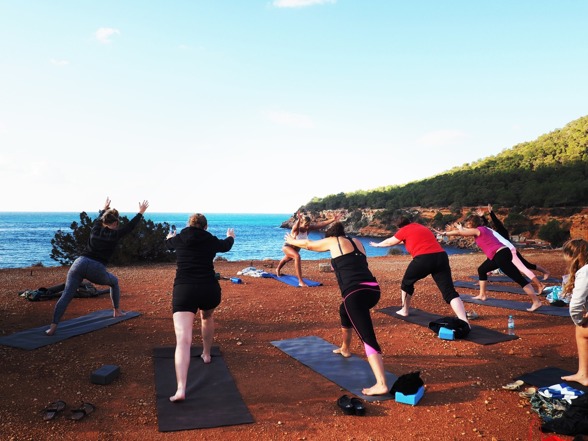 Day 1 Saturday:
· Check in and pick up for airport
· (For early arrivals we can arrange a trip to San Jordi Flea/Hippiemarket)
· Soft grounding yoga (Ebba)
· Welcome dinner
Day 2 Sunday
· Yogic breakfast
· 2 hour Yoga Class, Introduction to Bandhas, Ujjajay breath and Alignment (CARINA)
· After Yoga Juice Bliss
· Big Brunch Delights
· Freetime, beach, pool-hang, treatments, wellness-talks
· Healthy Snack
· Yin Yoga/Yoga Nidra (GHITA)
· Dinner
Day 3 Monday
· Yogic breakfast
2 hours Yoga "Wild woman flow" (CARINA)·
· After Yoga Juice Bliss
· Big Brunch Delights
· Freetime, beach, pool-hang, treatments, wellness-talks
· Snack served togheter with workshop "The new you" (Ebba)
· Depature to Ibiza town for sightseeing and shopping
· Dinner
Day 4 Tuesday
· Yogic breakfast
· 2 hours Kundalini Yoga (Ebba)
· Big Brunch delights
· Visit to the Godess Tanits cave
· Beachtime at Beautiful Benirras
· Partner/AcroYoga fun (Ebba)
· Picknick looking over the sunset…
· For "the wild women" optional go for a dance to magic improvisational music, a "real" Ibiza experience
Day 5 Wednesday
· Yogic Breakfast
· 2 hours awaken your inner mermaid (EBBA)
· Fruits served at the beach after yoga and perhaps take a mermaid swim!
· Big Brunch Delights
· Freetime, Treatments, Pool-hang, Beach
· Snack
· Ayurveda find out your Dosha workshop (Carina)
· Spanish Night with Paella
Day 6 Thursday
· Yogic Breakfast
· 2 hours Yoga, Shiva shakti flow (Carina)
· After Yoga juice Bliss
· Big Brunch Delights
· Optinal Treeking (where??) snack served
· Yin Yoga (Ghita)
· BBQ Dinner
Day 7 Friday
· Yogic Breakfast
· 2 hours Yoga, Free from the past (Ebba)
· After Yoga Juice Bliss
· Big Brunch Delights
· Freetime, Pool-hang, treatments, beach time
· Es Vedra Closing ceremony
· Dinner out at carefully picked restaurant
Day 8 Saturday
· Goodbye Yoga
· Breakfast
· Check-out
· Depature to Airport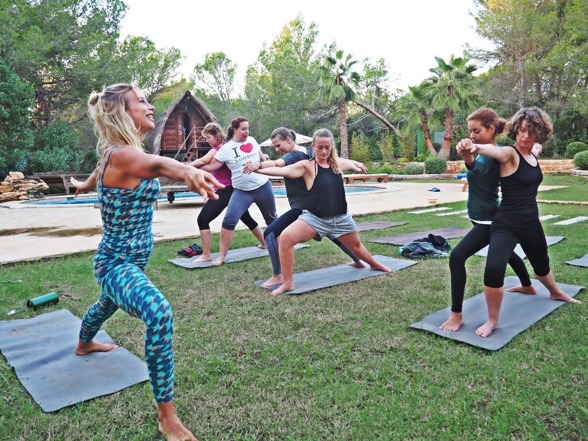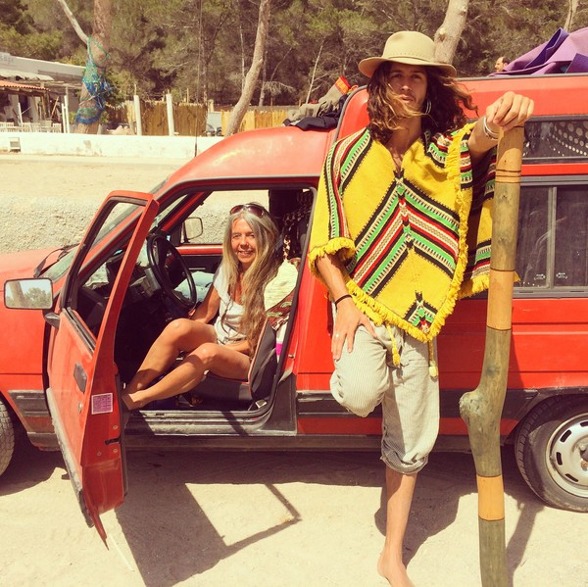 Yoga teachers and retreat leaders
Carina and Ebba met a couple of years ago in Ibiza and it didn't take long until they realised they where kind of made of the same stuff; spiritual freedom, nature and sun worshippers. They both share the same beliefs; that joy and love are the most important things in life. Ebba is returning to Ibiza every year and besides that arranging and teaching all over the globe. Carina is a resident yoga teacher in Ibiza but also likes to travel!
Read more about Ebba
HERE
and Carina
HERE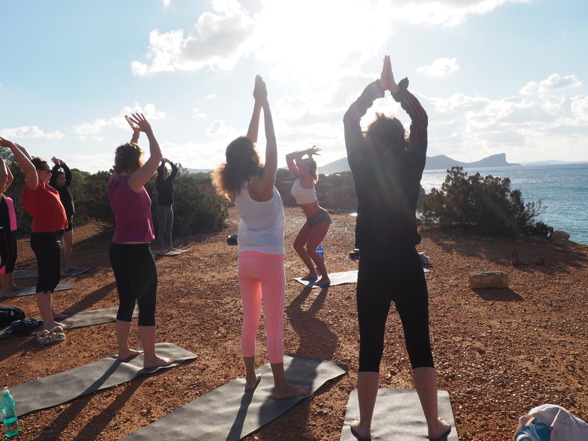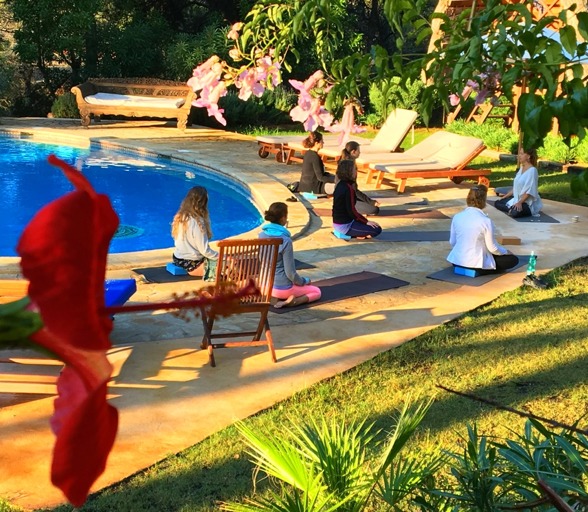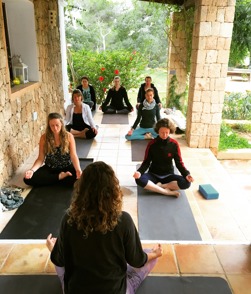 During the week you will get introduced to a couple of diffrent yoga-styles. Classes will be sutiable for all levels. Morning class will be more dynamic and evening class meditative/workshop-form.
Energtic Vinyasa Flow
Kundalini
Meditation/Pranayama
Yin/restorative yoga
Acro/Partner Yoga
Ayurveda workshop
Innerhealing workshop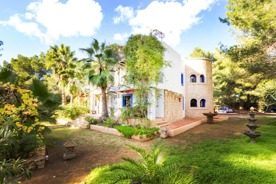 This beautiful typical rural casa is located in the south of the the island, only a 15 min walk from the beach Cala Jondal and Es Xarcu. The villa is close to the charming Eivissa which is the main city with a cozy old town filled with cafés, restaurants and shopping. Also many nice beaches are close by like for example the famous Las Salinas and the magical Sa Caleta. The airport is only a 10 min drive away. And, of course, we are the only guests in the house!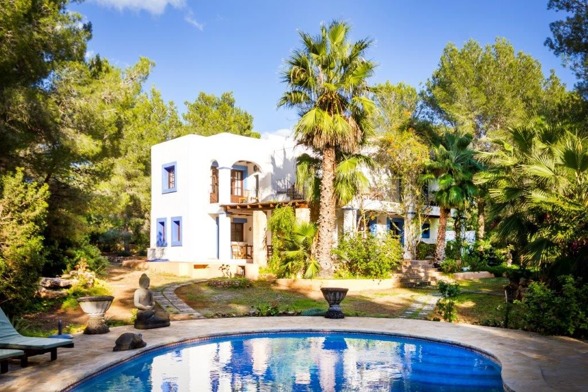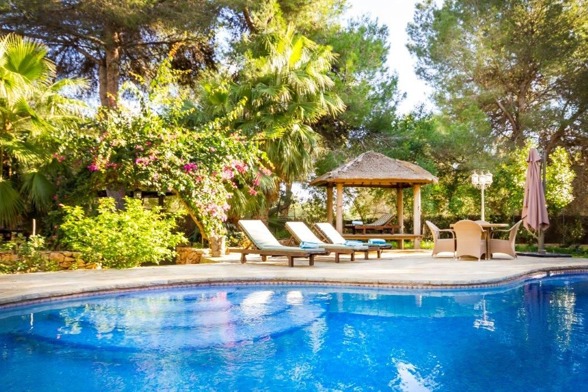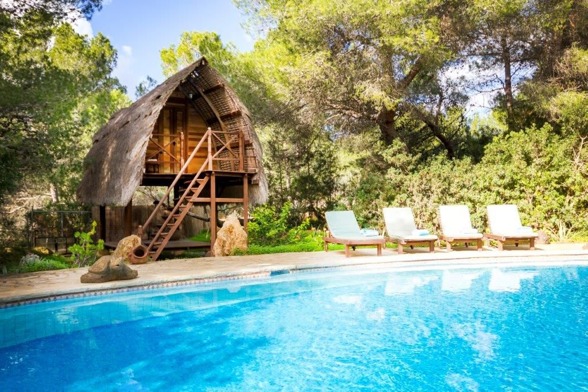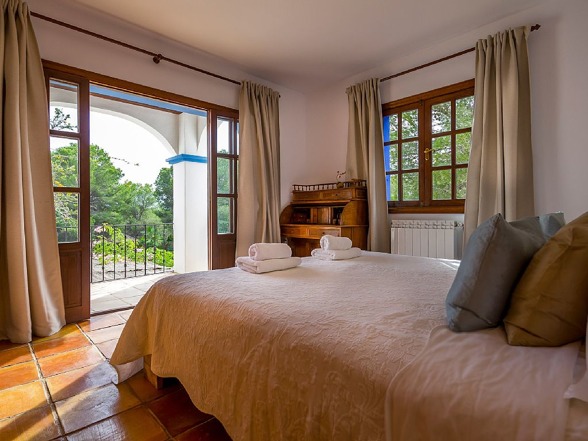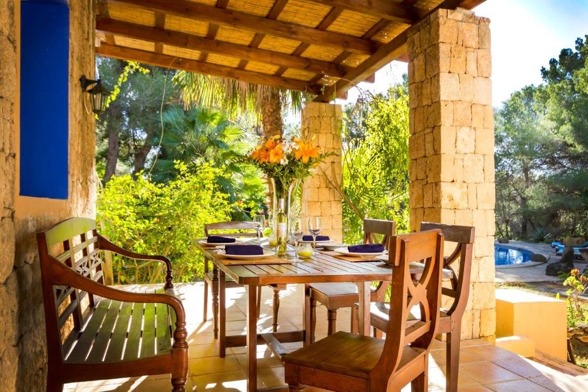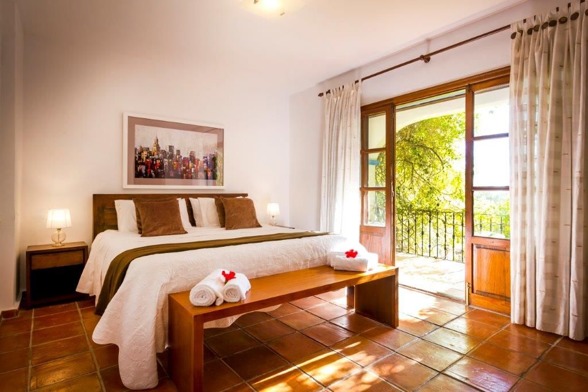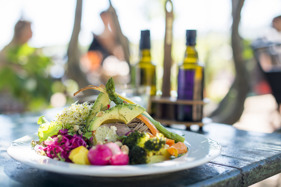 The food we offer during the retreat is also a part of the transformation you will experience this week. Home cooked vegetarian/raw nutrious and delicious healing food that will help you to rejuvenate, get more energy and feel healthier. Wherever possible most of our products will be sourced locally. The fertile earth of Ibiza produces tons of fresh and colourful vegetables, fruit and nuts. After each morning yoga class you will enjoy a yoga brunch and a freshly pressed juice.

Afternoon snacks and teas will be served every day to keep you going :-)
After evening class or workshop you get to taste a fantastic heartmade dinner cooked by our amazing retreat chef. One night we will have a BBQ at the house and for those who like we will serve fresh local fish! On Sunday we will enjoy a picnic on the beach and later dance to the drums in the sunset. On our final evening (Monday) we will take you to one of our favourite island eateries (notice that this meal is not included).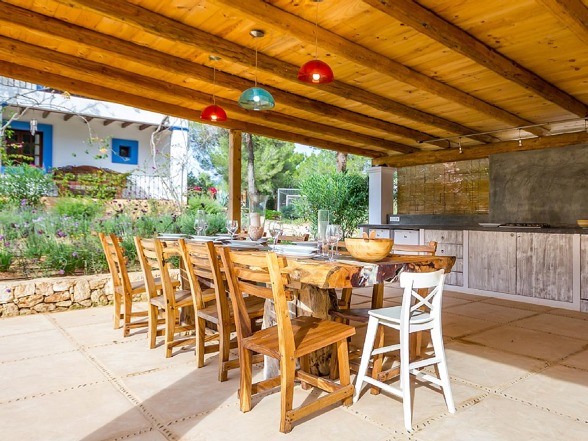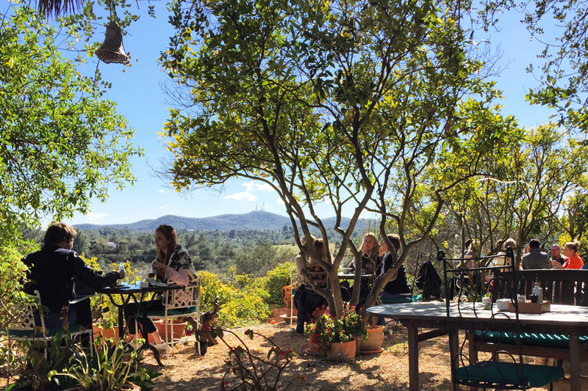 Transfer & Getting around
Our retreat location is only 10 mins drive away from the airport. We do offer a meet and greet service for a small additional charge.
Can Verano, our retreat home is about 1.5km from Cala Jondal beach, where you will find the jet set hang out at 'Blue Marlin', as well as family favourites 'Yemanja', and ' Tropicana'. You also have Eivissa or also called Ibiza town close with lots of colourful shops, cafés and restaurants.
To have more freedom for exploring the island, a good idea is to rent your own car. Let us know if you are interested in renting a car. We are happy to assist you with booking a car and maybe connecting you to other retreat guests if you'd like to share the cost and the fun!
freespirit ibiza yoga retreat
Dates: 6-13 of May 2017
Location: South of Ibiza, nearst beach Cala Jondal
Price:
Shared double room1150€
Single room 1350 €
King Suite single room with private bath room 1450 €

Includes:
Accamodation
Full board with hearty healthy vegeterian food
All yoga classes
1 hour treatment and private yogatalk.
Exploring charming old town "Evissa"
Trip to The Godess Tanits Cave
Treeking by the cost
Picnic and drumming at magical Cala Benirras
Trip to crystal mountine Es Vedra
Good times!
Not included:
Flights, Dinner out the last night (20-30€),Transfer
Yogastyle:
Energtic Vinyasa Flow during morning class. Workshops/restorative/Yin during evning class.
Yoga teachers:
Ebba Nailini @happysoulyoga
www.happysoulyoga.se
Carina Bo
@beyog_ibiza
www.beyogi-ibiza.com
Food:
Homecooked vegiterian
heartmade delicous and nutrious food made with love and care. Also a big part of the transformation!

Getting here:
International Airport We offer a "meet and greet" service for 25€/ Car we can help to coordinate you so you can share the cost with your fellow retreatmembers.
Inquire and Booking:
Ebba:
yogalife@hotmail.se
0046 76 019 3004
We are the drifters, the dancers, sun worshippers & risktakers, the dreamers, the lovers, belivers & worldchangers....
//People that go to Ibiza

The best thing with Ibiza is that you feel free to be you <3
In Ibiza we all bealive in magic, that's why magic is always present here...
Moving with breath and awerness is an amazing sensation of flowing...
The goddess Tanit attracts all the wild and free women to the island, or the ones who need more of that...
It is said that IBIZA lies on some of earth's meridian lines which gives it its magical healing powers...
Let your food be your medicine and your medicine be your food.
She had the soul of a gypsy the heart of a hippie and the spirit of a fairy
Transformation means from perfection to perfection... You are perfect the way you are...
To eat well is one form to express self-love <3
Ibiza makes your heart heal and feel free again...
I love the mix of people in Ibiza, you can never tell if the new person you are talking to is homeless or a millionare. Everyone looks like hippies!
"I will never forget the week in Ibiza" //Helen
Yoga is the journey of the self, through the self, to the self -Bhagavad Ghita
We want to show you "the real Ibiza"...